SPFX Coordinator, Clay Pinney, Clay Pinney Special Effects Inc.
Fabrication Foreman, Richard Stutsman
Motion Control Design Engineer, Bob Wilcox, GW Models Inc.
Motion Control/Electronics, Doug Calli, CALLICO
The "Toys" airplane as it hangs over a model of Manhattan Island. This flying rig used an overhead x-y gantry to traverse the sound stage, and a 3 axis Motion Control system to control the airplanes pitch, roll and altitude. It took 3 people to fly. Richard Stutsman controlled the "length wise" axis of the gantry from the stage floor, Don Krause and Don Black controlled the remaining axis from a cage or "dog house", slung under the gantry. If you look closely, above the airplane, you can see the square shaped "dog house".
No really, we do work hard!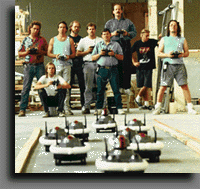 The Main Tank Corps, as we diligently practice our parade formation. Our tanks are wearing protective foam pads, to keep us from damaging the props before the show. From L to R, Ken Ebert, Werner Hahnlein, Dick Gardner, Gene Rizzardi (our commander), Rich Cordobis, Mike Roundy, Doug Calli (the geek on the box), a bored laborer and (what's his name) and taking the photo Mark Yuricich.
At times in the show, there were more than 50 Special Effects remote control operators driving their tanks, helicopters and toys through the "Toys" sets.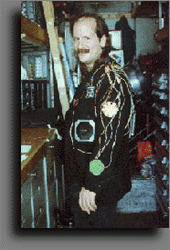 The "Toys", "Talking Jacket", designed by Giancarlo Gianini, and worn (now there's an understatement) by Robin Williams in "Toys". It turns out Mr. Gianini is an Electronics Engineer, as well as a famous Italian actor and one of my all time favorites, not just because he's an Italian engineer, but it doesn't hurt!
By moving your hands, arms and torso, you could make it play various wacky sounds. I'm in Clay Pinney's Special Effects truck, bringing it back to life after its trip from Italy.
top of page